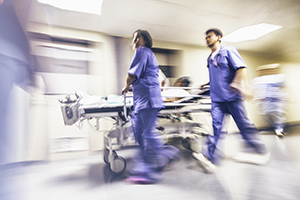 The emergency  department in a hospital or health centre receives and cares for people who are sick or injured, and who arrive on their own or are brought in by ambulance.
Wait times
When you visit the emergency department, waiting times vary, as sicker patients are seen first. Patients are seen based on the severity of a person's condition or illness. Although everything is done to reduce wait times, there may be many reasons why some patients have to wait longer. Sometimes, for example, many patients may arrive at once, like when there is an accident and people require rapid emergency care.
Learn more about how patients are triaged in the emergency department.
Civility and respect
Let's work together to create positive interactions and experiences of care. We understand that visiting the emergency department can be stressful. As health providers, we are committed to acting with respect and civility, and ask that you are respectful to our staff and physicians.
In case of an emergency, go to the nearest emergency department or call 911 for an ambulance. For health advice, call the NL Health Line at 811.